As many of you who have followed me and my training videos on this website for the last fifteen or so years, my dogs were my world.
Training them to do fun and entertaining tricks were my passion.
Perhaps you remember the weekly training challenges we used to do inside the community forums?
The Cop-Cop?
Fetch A Flower?
And who could forget Play Chess?
With that said, I am saddened today to announce the passing of both Onyx and Chase. They were the greatest dogs I could ever have asked for!
It's an understatement that if it weren't for my dogs, this website wouldn't have existed.
They were my inspiration for creating it.
Now that they're gone, it serves as a beautiful tribute to our dedication to helping other dog owners.
Like many other pet owners who have experienced the loss of a pet, I wanted to get a memorial to honour my dogs for everything they'd given me over the years.
I asked my vet.
I looked online.
Nothing truly appealed to me. Most of it was mass produced plastic and fake stone memorials that I knew wouldn't last more than a year or two in the harsh Canadian weather.
I wanted something of high-quality.
Something that would last a lifetime.
That's when I thought of granite. There's a reason why granite is used for headstones in the cemeteries, that's because it will literally last a lifetime!
How do I know this?
Well, not many people know this about me, but my father was a headstone engraver. He spent 40+ years mastering this trade, and before he retired in 2008, he taught me the tricks of the trade.
I never thought in a million years that I would use what he taught me to engrave my own dogs' memorial.
But here we are.
After much research and contacting monument dealers in my area, all of which didn't sell pet memorials specifically. They all sold large headstones for people in the cemeteries.
I just wanted something small, but the same quality you'd expect in a cemetery.
With my dad being involved in the industry, I was able to find an international granite supplier that could manufacture a small memorial for me.
Here's what it looked like: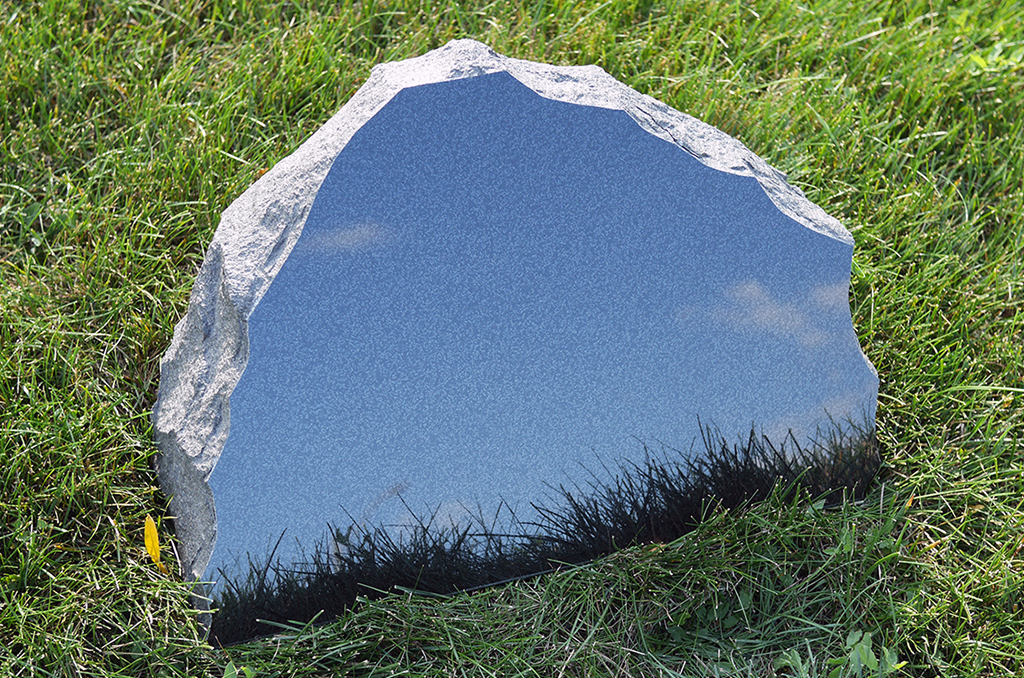 However, there was one problem.
The granite would come blank. Meaning, I would have to engrave it myself.
Not a big deal, since my father had taught me how to engrave it.
So, I spent hours sifting through all the photos I had taken of my dogs over the years (it's remarkable how many photos I took of them, but so glad I did!)
Then, I stumbled on this one: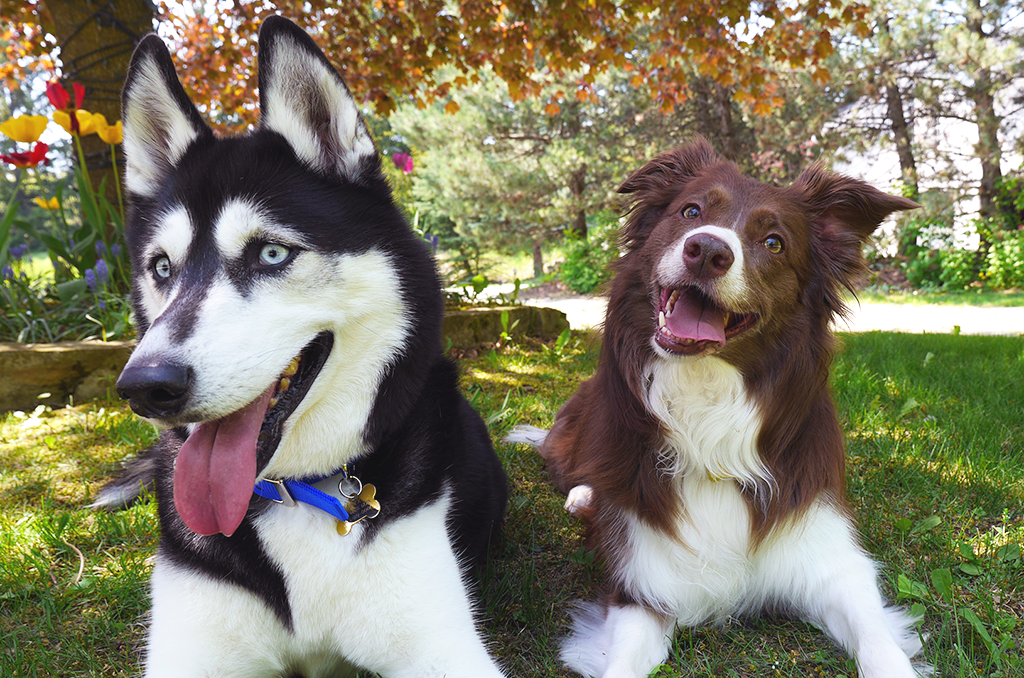 This photo resonated deeply with me. It truly showed their kind and playful demeanor just laying in the grass like that. Not to mention that I specifically remember taking that photo!
Next, I needed to figure out a way to personalize the memorial.
I knew that I wanted to place it in a garden in my yard so that every time I go outside, I would be reminded of my dogs and it would kind of feel like they're there with me in spirit.
So, I decided to just dedicate my garden to their memory.
Here is what the final memorial looks like: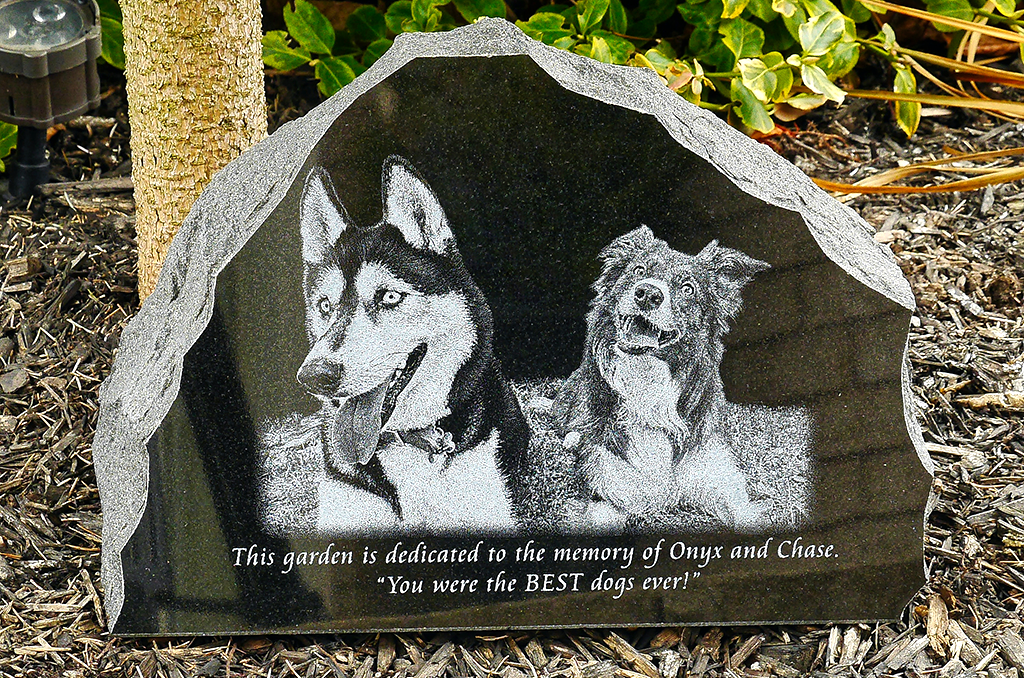 Not too bad, eh?
Engraving it personally was nerve-wracking.
I was mainly concerned (and nervous) about screwing up the memorial, but it all went smoothly and, in the end, turned out better than I could ever have hoped for.
Since I engraved my dogs' memorial, everyone who knew my dogs and has seen it has complimented me on how beautiful and how lifelike it is.
Many of them asked me to engrave a memorial for their own pets who had also passed away.
After engraving a few pet memorials for friends and relatives, I realized just how much it means to them.
They all had a tear in their eye as I unveiled their memorial.
Now realizing just how much this means to people, I decided to create a new website called Furever Memorials where pet owners from Canada and the United States could order a personalized pet memorial for their pet who also passed away.
You can check it out by clicking on the link below:
→ Beautifully Crafted Custom Engraved Pet Memorials ←
Losing my dogs was one of the most heartbreaking events of my life.
Raising them from puppyhood, training them to do obedience, tricks, agility and even skijoring, and then taking care of them as senior dogs, just shows just how much they were loved.