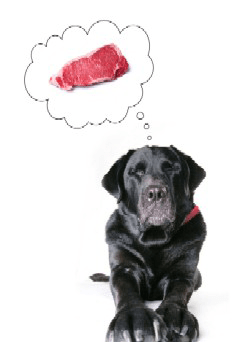 Dogs have been living a healthy life with humans for thousands of years. (Vilmos Csanyi, in his book "If Dogs Could Talk" 1, says the oldest dog skeletons found are about 14,000 years old.) Yet in this twenty-first century, dog owners face a barrage of advertising, aimed at convincing us to buy commercial dog food.
Much of this advertising suggests that feeding a dog raw food is a highly complicated process, best left to the "experts", those who package so-called "complete" foods. If feeding dogs is so difficult, how did humans manage so successfully in the past? Perhaps the same way they fed themselves and their children – through the use of common sense and an understanding of the needs of their dogs.
Tom Lonsdale, Australian veterinarian and author of "Work wonders; Feed Your Dog Raw Meaty Bones" 2, says, "Definitely, without doubt, the best food for pets is that eaten by their wild cousins…In the wild it's a case of survival of the healthiest. There are no veterinary hospitals or animal dentists in the wilderness… a natural diet provides the ideal 'fuel'. It cleans the carnivores' teeth and keeps the animals in peak fitness and health…a raw, natural diet acts as food and medicine combined."
Some of the carcasses suggested by Tom Lonsdale include rats, mice, rabbits, fish, chicken/hens, or, for large dogs, calves, goats, lambs, pigs. Raw meaty bones include chicken and turkey back and frames, whole fish and fish heads, larger carcasses cut into manageable parts, by-products such as pigs' trotters and heads, sheep heads, or tail bones. He lists offal such as liver, lungs, trachea, hearts, tripe, tongues, amongst others.
He acknowledges that finding whole carcasses, complete with fur, feathers, fins and entrails, may be too much for the average pet owner to manage, but concludes, "The second best and practical option — raw meaty bones and a few table scraps — is easy, economical and efficient and will have your pet living a long and healthy life."
"Raw meaty bones" doesn't mean a bone that has had the meat removed. It means a bone within a covering of nutritious meat. Gnawing, tearing and ripping the meat, tossing the meal from side to side in the mouth, before consuming the bone itself, gets the dog's stomach juices pumping and cleans the dog's teeth.
As Dr. Sasha Herbert says in her book, "nibble munch chomp" 3, carnivores "don't just stick to the muscle meat. If they did, they would be lacking all sorts of important minerals, vitamins, fiber and fats." So if we decide to feed raw, we need to include a range of animal parts, including organ meat and bones.
If you are interested in finding out more about dog raw food, you might like to browse the information on TomLonsdale's raw meaty bones site or join the Yahoo! Raw Feeding interest group, where you will find helpful guidance from those who have already switched their pets to this diet.
The next question you need to consider is whether to include plant matter. Dr Ian Billinghurst, author of "Give your dog a bone: a practical commonsense way to feed dogs for a long healthy life" 4, argues that wild dogs and wolves would eat some vegetable matter, perhaps as the partially digested stomach contents of prey. For information on this aspect of feeding you could visit his site, Barf World. (BARF has been variously described as Biologically Appropriate Raw Food, Biologically Appropriate Real Food or Bones and Raw Food).
Although there is disagreement in the world of dog raw food on whether to include vegetable matter or supplements, both sides of the debate are convinced that dogs do not need to eat grains – a major component of commercial dried foods.
Dr Billinghurst says, "Modern dogs of any breed are not only capable of eating the food of their wild ancestors, but actually require it for maximum health. This is because their basic physiology has changed very little with domestication." 5
It's not rocket science. With some research and some commonsense we can feed our dog raw food and an appropriate healthy diet.
References:
1 Vilmos Csanyi, If Dogs Could Talk, translation by Richard E Quandt. 2005, North Point Press, NY, US.
2 Tom Lonsdale, Work wonders; Feed Your Dog Raw Meaty Bones. 2005, Rivetco P/L, NSW, Australia.
3 Sasha Herbert, nibble munch chomp: The art and science of feeding your pet.2007, JoJo Publishing in conjunction with Lort Smith Animal Hospital, North Melbourne, Australia.
4 Ian Billinghurst, Give your dog a bone: practical commonsense way to feed dogs for a long healthy life. 1993, Warrigal, Australia.
5 Ian Billinghurst, BARF World: What is BARF?