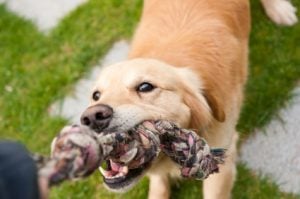 Playing with your dog will build the relationship between you. It will use his mind in order to enable him to settle when you need him to, and an enthusiastic game will certainly be fun for both of you. The home that hosts multi dogs automatically provides stimulation for the animals by allowing interaction with each other. Single dogs benefit greatly from the interaction and stimulation they get when you play with your dog.
Play is beneficial to you as an owner too. Tug of war with a delighted and enthusiastic Staffordshire bull terrier on the other end of a tatty rope toy really is a great way to let off some steam after a hard day. The enthusiasm of an excited dog is infectious. They are in their element whilst being given individual attention and their happiness spreads. Any owner that walks through the door after a bad day to be met by a loyal and overjoyed canine companion cannot fail to appreciate the shift in mood that their dog provides.
Play is a great way to instill general control and training into your dog. Dog training games involving commands such as wait, sit and leave can all be taught when playing with a toy. Your dog is likely to learn well when the lesson is based in play. Happiness and positivity encourage thorough learning. This happy and eager state of mind is what clicker training and other positive reinforcement techniques are based upon.
There are many ways that you can play with your dog. Certain breeds enjoy games that are catered to their instinct. An example of instinct based play is a Labrador that retrieves the ball, endlessly asking for just one more throw. The springer spaniel bred for sniffing out game birds in bushy areas will really enjoy interaction based around searching for her toy.
Playing with your dog is great. Whether you are throwing a ball, pulling on a toy, teaching him to jump into your arms or simply playing chase you will both thoroughly enjoy yourselves. There is no room to be self-conscious when you play with your dog. Canine games are great for stress relief.
Play with your dog … some ideas :

Play ball. This is great for dogs that sniff around and use their noses a lot. Enhance a normal game of fetch by introducing some techniques often used when training search dogs. Hide the ball somewhere where the dog has to work by sniffing to find it. Then guide him into the area watching him follow his excellent sense of smell until he finds the toy.
You can play this inside or out. By shutting your dog outside a room you can go in with the ball and hide it. When you let him into the room he will search until he finds his toy. Vary things by placing the toy at different heights and touching a lot of the room on the way around. You will be creating disturbance for him to sniff at.
Scatter feeding is great for a hungry dog. Throw treats or his dried food around and he will become very excited wondering where the next sweetie will land. You can ask things of him when doing this, practice control like sit or down before throwing the treat.
Tug of war is another good game to play, a couple of rope toys and some treats and you can have a grand old time. Practice control by regularly offering either a treat or the other toy as a bartering tool. Your dog should easily let go when you are offering a swap. If he doesn't just stop playing and this will let him know that he must swap or the game ends. Let him win the toy sometimes too, it will increase his confidence and keep him interested.
Activity toys are great to encourage a dog to play alone when you are busy. A ball or similar that can be stuffed with treats is a wonderful occupier for a food loving dog. An activity ball will be bashed around merrily until empty so probably best used outside or when the dog is alone.
If you are feeling stressed or just a little sad, play with your dog for a few minutes and it will put an entire new slant on the day.