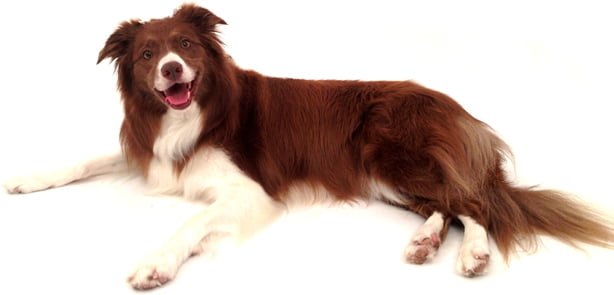 Hi there,
Meet my dog Chase, she's the friendliest Border Collie I've ever met!
In fact, as a puppy they had nicknamed her 'Kisses' because she would kiss everyone that she met. (She still does that!)
In this blog post, you will learn why I love my dog and how she's impacted my life…
The photographs you see on this page were taken today in my 'home-made' studio.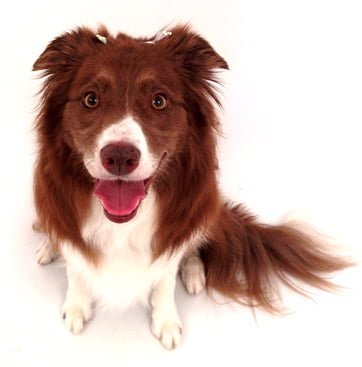 Here's why I love my dog…
She is the most playful dog I have ever seen. I often wish that I had her energy. She will literally play until she is completely exhausted. And after 10 minutes, she'll want to play again.

The funniest thing happens when I watch a movie on TV. Chase wants to play so badly that she'll bring all of her toys to me, and I usually don't notice until the end of the movie at which point I am surrounded by toys.

She is the best 'work-buddy'. I used to be allowed to bring her to work with me and she'd be there to cheer me up as I worked through the day. Sadly the new regulations don't allow me to bring my dog with me anymore … but I still sneak her in sometimes. (shh, nobody is supposed to know)
She is so easy to train. Border Collies are notorious for being smart and Chase learns new behaviors and tricks very quickly. Although she prefers tricks and behaviors that are physically demanding, like weaving in and out of my legs (figure eight) or jumping in my arms.
Do you want to know what's the best though? She's an awesome swimmer and loves to jump in the pool to retrieve a toy or just to cool off. It really makes the summer that much more enjoyable!
Below, you can watch a short video recorded today of Chase doing some tricks. This is just something we do for fun!

Although she would do those tricks simply to please me, I usually reward her with a toy (her much preferred reward).
How about you? Why do you love your dog?
Leave a comment below and let me know!