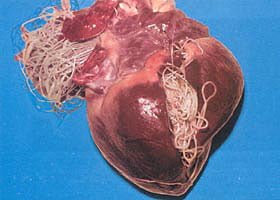 In today's world, we are often told by our veterinarians that dogs are susceptible to many illnesses, infections and diseases.
In this article, I will talk in details about the well known disease known as canine heartworms (worms in dogs).
This disease is formally caused by the parasite Dirofilaria immitis which has taken the name heartworm over the years because it resides in the heart and major blood vessels of the dog.
For the majority of cases, dogs are infected through a mosquito bite. The mosquito releases larvae worms in dogs which then grows to maturity and begins to reproduce in approximately six to seven months.
The signs that a dog is infected vary greatly on the amount of worms the dog is carrying. A dog that is carrying only but a few worms may not show any signs of illness, while a dog with a heavy load of worms may be lethargic, lose weight, cough during exercise or even pass out. Dogs with severe cases may even suffer from heart failure.
Heartworm disease can be cured by first poisoning the adult worms and to eliminate them from the dog's system. The dog must be hospitalized during this process so that the veterinarian can monitor any complications that may occur, such as arteries being obstructed by the dead worms..
Three to six weeks later, the dog must be hospitalized again so that he can be treated to kill the baby worms which are still in his system. A dog is usually hospitalized for another eight hours.
Prevention is a far better treatment and it will save you lots of time, concerns and money.
There are a few types of medications available today for preventing heartworm disease (worms in dogs). Some are only effective against heartworm disease, while others are also used to control hook worms, roundworms, whipworms, fleas and ticks.
It is important that you always consult your veterinarian before giving your dog any kind of medication. He is the most qualified person to guide you in the right direction.
Below is a short list of well known medications which are designed to prevent heartworm disease:
Diethylcarbamazine (DEC) is given daily and protects only against heartworms.
Heartguard Plus and Interceptor are given monthly and also protects against hook worms, roundworms and whipworms.
Sentinel is a monthly tablet that protects against heartworms and fleas.
Proheart is administered by a veterinarian and lasts up to six months.
Revolution is applied to the skin and protects against heartworms, fleas, ear mites, mange and ticks.
Overall, worms in dogs are something that every dog owner should be aware of and is actively taking precautions according to their veterinarian's advice.