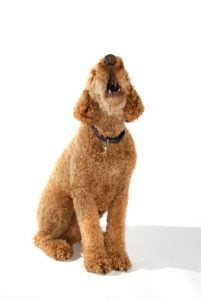 An incessant barking dog is sufficient to drive the most patient and loving dog owner slightly mad. The most tempting thing to do in this circumstance is to shout at the excited dog to stop. By doing this though you are only getting the dog more excited. In many cases he will believe that you are joining in and bark louder still.
The owner of a persistent and random barker in the home may develop a nervous twitch, never knowing when the next noisy tirade will be provoked. The dog that barks out on walks is just as distressing. Muttering apologies towards huffing strangers whilst dragging along a hollering canine is upsetting and infuriating for the most resilient of dog owners.
If you are the owner of a dog that seems pre-disposed to bark you may be surprised to learn that to stop this behavior it is necessary first to reinforce it. Yes, to train your dog not to bark you will first need to train him to bark on command.
Your dog needs to first associate a command to the behavior, then when that command is learned he will need to learn a specific command to stop the behavior. With my dogs I use the command word "speak" to encourage a bark, followed by the command word "quiet" to encourage the cessation of the barking.
Train your dog to bark on command using the clicker
Tune your dog into the clicker, ensuring he knows that every time he hears a click he will, without doubt receive a reward.
With your clicker and dog training treats wait for your dog to make a sound and reinforce with a click then reward. Begin to introduce the cue word that you want to use (speak)
Each time your dog makes a sound reinforce the behavior and soon your dog will begin to realize that to get his treat he will need to bark. Keep using the cue word too so that your dog associates it with the action.
By teaching your dog to bark you are introducing control over the action and eventually this will progress into your everyday lives.
Train your dog not to bark on command using the clicker
Now that he can bark on command it should be easy to train your dog not to bark using the same method.
Begin the training session as you did when you were teaching him to bark.
Give the command word that prompts him to bark and reward the action as usual then when there is a pause in his barking, pinpoint this with a click and introduce the other cue word (quiet).
Repeat this a few times then eliminate the cue for barking altogether, the aim now is to associate silence with the second and more useful cue word.
With practice you should be able to command a bark then command a silence.
You can now proof the command words by asking the dog to "speak" and "quiet" in many areas and situations. Build this up gradually to keep his excitement levels under control and make sure he is focused enough to obey them. Excellent dog trainers always set their dogs up for success; this builds confidence and enables more effective learning. Similarly, a good dog trainer will not issue a command word if the dog is too excited and is unlikely to respond.
When both of the command words are learned and proofed, you can begin to use them in situations where the dog would normally bark out of control. Begin by setting yourself and your dog up to succeed. Watch your dog and be aware that once his excitement levels are too high he will probably not respond. By keeping distractions and triggers for barking low to begin with, you can maintain his attention on you whilst you train your dog not to bark.
Eventually and when you have trained your dog not to bark, you will be able to use the command word effectively in all situations. Ensure that you get the command in quickly though and maintain the dogs focus on you with reward and reinforcement. This technique can be used alongside other obedience commands to maintain control of the behavior of your dog both in and outside of the home.