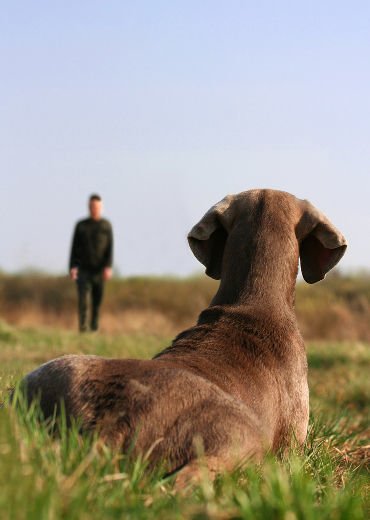 Formal obedience training for dogs normally occurs in a class or with a private trainer in a one-on-one setting. Obedience training for dogs begins with very basic obedience training, including teaching the dog to respond to such common commands as "sit", "come", "down", and "stay".
However, obedience training for dogs can progress to train a dog for higher-level competition with such organizations as the United Kennel Club, the Canadian Kennel Club, and the American Kennel Club.
Obedience training for dogs requires that a dog obeys the direction or command of a handler. In order for a dog to advance in obedience training, he must respond quickly every time that a command is given by his handler.
The process of obedience training for dogs is long and arduous the farther that a dog advances in his skill level. If a dog is being trained for the purpose of competition, formal obedience training may be a prerequisite in order to compete.
Beginner obedience training for dogs will range from 6 to 10 weeks. This will determine if a dog is able to receive basic communication from a handler in a few simple steps. In most training methods, a dog will receive training for one command at a time. One of the most fundamental skills that a dog must learn at the beginning of training is the ability to walk well on a leash with a handler in order to be eligible for further competitions.
Obedience Training for Dogs: The Trials
An obedience trial is a sport that a dog must perform in a series of set tasks that have been directed by his handler. According to the official regulations of the American Kennel Club, "The basic objective of obedience trials, however, is to recognize dogs that have been trained to behave in the home, in public places, and in the presence of other dogs, in a manner that will reflect credit on the sport of obedience at all times and under all conditions."1
For this reason, obedience training for dogs can be used to train a dog to participate in obedience trials sponsored by the American Kennel Club. A dog that receives this advanced training will progress beyond basic commands to compete at a higher level; the dog will be evaluated in a public competition and scored by judges.
The dog must not only demonstrate proficiency in basic skills to receive a passing score of 170 out of 200, but a handler will also often train a dog at a higher skill level so that he can earn more points. For a dog to receive a perfect score at an obedience trial, he must:
Run directly to the handler on command without distraction or sniffing along the way.
Sit directly in front of the handler without looking to one side or the other.
The dogs that earn the top four scores within a class will receive obedience placement ribbons and additional prizes in some cases. Dogs that earn a passing score in the obedience trial will earn what is called a "leg". A dog must earn a set number of legs in order to compete for a title in the obedience trials, where he will receive a certificate of accomplishment.
Obedience Training Competitions
In addition to the obedience trials listed above, another popular obedience competition is Rally Obedience. This obedience competition involves several warm-up and freestyle exercises for intermediate placement between basic certification from the American Kennel Club and more advanced obedience competitions.
Within this intermediate competition, dogs will be led by their handlers through different stations in the heel position. The dogs in the competition will compete at three basic levels, Novice, Advanced, and Excellent, in three different legs for the extended championship title.
Sources:
"American Kennel Club Obedience Regulations." www.akc.org. N.p., n.d. Web. 2 Dec. 2011.