A few years ago, I created this very cool paper illusion dog that once assembled, appears to move its head as you look at it with one eye closed or from a distance of 4 to 6ft.
When I first saw these types of illusions, I immediately knew that I wanted to create one. So I thought about it for a long time and since dogs are such an important part of my life, I decided to make an illusion dog.
It took weeks to find someone who could help me create it, and it took more than 15 revisions to get it perfectly working.
Take a look at our final results here:
You may download the print-out of the illusion dog, which you will then need to cut and assemble. However, it must be assembled correctly!
The trick is to fold the head inside-out – this is what creates the illusion. If you fold it like a normal dog then it will not work, you have to assemble it like this picture: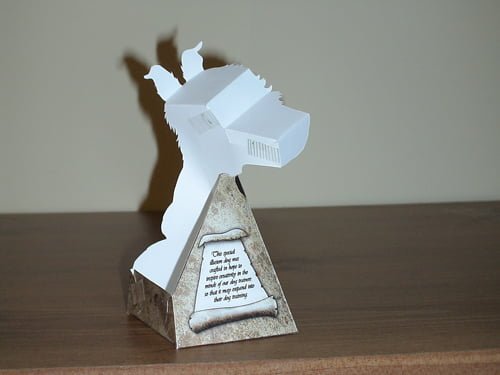 You may notice a different logo and slogan on the illusion dog once it's assembled. That's what the original logo used to look like. We've changed a few things since then. 🙂
If you like this, then please leave a comment and share it with your friends on Facebook!
[pwal id="31821123″ description="To download the illusion dog, share this page by clicking one of the buttons below.""] [s3mv]miscellaneous/illusion_dog.pdf,button,Click Here to Download the Illusion Dog[/s3mv] [/pwal]