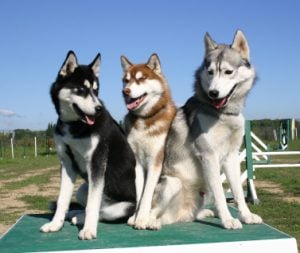 Beauty and brains unite in the Siberian husky. Bred to pull sleds for many miles in arctic conditions, this breed of dog is becoming increasingly popular as a family pet. With an appearance similar to that of the white wolf and great strength of body and mind the husky is a canine to be admired.
A home for a husky
If you are new to the breed and are thinking of offering a home to a husky, intensive research on how to train a Siberian husky is advisable. You will need to provide this type of dog with a particularly understanding and active home. An unstoppable intellect and intense need to be physically and mentally occupied is a prominent trait of the husky.
Bred to live and work in freezing conditions, midsummer heat can be particularly uncomfortable and dangerous for your dog. Training sessions should be catered around the dogs need to be as physically cool as possible.
Training your Husky
Learning the theory on how to train a Siberian husky will probably not prepare you for the practicality of the exercise. Intelligence, stubbornness and the questioning nature of your dog may prove frustrating. Your husky will learn a trick quickly and soon become disinterested if asked to repeat it too often. Training sessions could easily become a case of you saying "jump" and your dog asking "why".
The answer to the question, how to train a Siberian husky, is as simple as this; Treat him as an intellectual equal. Be aware that he only needs a small amount of positive reinforcement and reward based training to learn something new. The husky will only respond to positive handling and training.  He will work out what you want from him quickly and with minimal effort. Your job is to work out how to motivate him to repeat his prior learning when required.
Avoid a Stalemate Situation.
There is absolutely no point in persevering on a training stalemate situation with your husky. His stubbornness will prevail and training will become a frustrating exercise. If your request is falling on deaf ears, then change tactics to achieve your desired result. If you are asking something of him and the request is being met with lack of interest, then briefly ask for something else and reward him on delivery. You will take him by surprise which can then be used to coerce him into the previous request. How to train a Siberian husky, along with any other super intelligent yet independent breed can take thought and a little trickery.
Recall – How to train a Siberian husky to come when called.
Recall can be one of the main problems with this breed. Unsurprisingly as their nature says run in a straight line. Just as a Labradors nature says pick something up and a terriers instinct is to shake an object around. Knowing how to train a Siberian husky to come when called and actually being able to get an off leash husky back on request can be very different.
Traditional recall training is a must with this breed. It is certainly not advisable to let your husky off the leash and hope for the best. Begin by recalling on the leash and always reward your dogs return. Vary your reward to keep the dog interested. He will soon become bored of the same treat. A squeaky or other noisy toy may be good motivation.
The Long Line
Introduce a long line to allow your dog to run. Your husky must be allowed to run otherwise he will be unhappy. A life of leash walks is not how to train a Siberian husky. A long line can be made of any type of rope or cord, keep in mind though that it could be slipping quickly through your hands at some point so choose a fabric that is less likely to burn your skin. Most pet stores carry what is called a cotton web long line, it's a great inexpensive option.
When you are certain that your dog will return to you on leash leave the long line attached to his collar and remove the traditional leash. Increase the distance of recall gradually but still maintain in control by holding onto the long line. Eventually and only when confident, you can drop the long line on the ground and practice recalling your dog in the traditional manner. At this point the long line is your insurance policy. Progression from long line work will be short recall off leash. You can also shorten the long line until you no longer need it. Training often and several times a day is the best to train your husky to return on command.
By living with and learning how to train a Siberian husky you will certainly learn a lot about canine behavior. You will also benefit from the necessary research of many positive reinforcement dog training techniques.