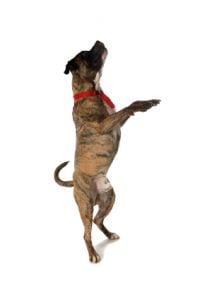 Bred initially for bull baiting and used more recently for underground dog fighting, the pitbull has suffered more than its share of both bad press and abuse at the hands of humanity.
Reputation
The pitbull terrier is powerful and can cause substantial damage with a bite. With this and the press focused on the breed, the pitbull has acquired a reputation that is vastly unfair. The pitbull terrier is often in the news and social media spotlight. Coverage ranges from an attack on people or other dogs, to desperate owners trying to prove that their family dog is no more a threat than any other breed of dog.
Social networking has allowed pitbull lovers to unite against the breed related discrimination aimed at this type of dog. Forums and blog posts draw attention to everything from flaws in the law banning these dogs to how to train a pitbull to roll on his back. These pages are filled with wonderful pictures of much loved pitbull terriers playing with young children. The breed is described in these circles as "the nanny dog" referring to its affinity with children.
The Law
Laws have been passed in both Canada and the United Kingdom to ensure that the pitbull terrier is controlled when in public with both a muzzle and leash. Temperament tests are carried out on the few pitbulls allowed to live out their lives in the family home. Dogs all over the United Kingdom have been seized by officials and euthanized if resembling a pitbull. It is claimed that many lawmakers have little idea of how to train a pitbull.
Pitbull by nature
In reality the pitbull terrier is a biddable and trainable dog, he carries an inkling of stubborn terrier attitude alongside a sensitive streak. The pitbull wants to please his owner and is extremely trainable. Positive dog training will be required and really is how to train a pitbull terrier. This dog will become upset and worried if punished or roughly handled.
How to train a pitbull in general manners
One of the main things to consider with your pitbull terrier is his size. Your dog must learn good manners and control. You may know that he is a big softy, but the stranger he jumps up at only sees a huge dog attempting to dive on him.
If you are training a pit-bull puppy, then he should never be allowed to jump up at anyone. It is unfair to allow your dog to jump up as a puppy as he will not know the difference in his size as an adult dog. He will not understand why you are telling him off for jumping up as an adult.
At the very beginning of your lives together, you should teach your dog an alternative behavior to jumping up. A sit will be a good substitute. A jumping up dog wants your attention and by giving attention only to a sit, the dog will soon learn to offer this behavior as a replacement. You can add a further motivating reward like a food treat when he sits or you can just kneel with your dog and give him the hug that he is asking for.
Positive training
When researching how to train a pitbull the first thing to ensure is that you only take on board the positive training methods. Reward based training with this breed is essential. Punishment and negative reaction will distress him greatly.
Looking like a strong and powerful dog the pitbull can be expected to cope easily with rough handling.  He is employed in some circles as a status dog. The illegal world of dog fighting still thrives in many countries and often the pitbull is at the center of this.
Your pitbull is a terrier and they are by nature reactive. But he is no more reactive than a Jack Russell terrier or a Yorkie. He is just bigger and in reality this dog will, as any other, learn according to his experiences. If under socialized, your pitbull will be frightened of things and if not trained properly, he will have little idea of how he is expected to behave.
A well socialized pitbull terrier, that is taught good manners by a responsible owner will be as fantastic a family dog as any other breed.