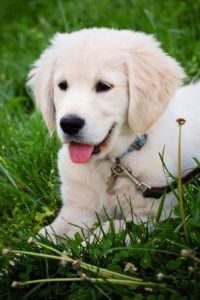 The golden retriever is a nice dog to raise and train. Resembling a bear cub as a puppy the retriever will grow into a loyal and humorous companion with stunning looks. This breed of dog is rarely complicated and usually responds well to praise and food reward. Originally bred to retrieve game birds and waterfowl the retriever is often seen proudly, yet gently, carrying a toy or shoe.
If you have decided to introduce a golden retriever puppy into your home then you are in for a treat. Watching this breed of dog grow into a mature adult canine is fantastic. The retriever is honest and faithful. He is a dog of little complication and you will enjoy him.
To help your new puppy grow into a well-rounded adult you will need to provide him with everything a puppy needs. Golden retriever puppy training is just the tip of the iceberg.
Socialization
Socialization is important for any puppy. The golden retriever is generally nice in nature and friendly to people and other animals. To ensure that your puppy stays this way, you should introduce regular contact with as many new experiences as possible. Any dog if not socialized from a young age can develop fear based issues such as spook barking or being scared of other dogs.  Some of the things to include in your golden retriever puppy training when socializing your dog are listed below;
Other dogs
Other animals
Children of all ages
Vehicle travel
Loud noises (to prepare for fireworks)
Household appliances
Dog training establishments often organize puppy socialization classes. Frequently these classes are catered to all breeds of puppy and not simply golden retriever puppy training. You could take your dog along and allow him to spend some time with other puppies of his own age, all shapes and sizes of dog. By attending these organized groups your dog will learn how to interact with other dogs and this is crucial to his development.
Leash walking
The main thing to remember with golden retriever puppy training is that your small and light puppy will grow into a big strong dog. You may be able to lift him at the moment and jumping up can seem cute. A large untrained retriever can be weighty and quick to use it to his advantage. Sitting on you or jumping for food with no malice can still become a nuisance. So it is a good idea to work on the behaviors that are most likely to become a problem as he grows.
The retriever really is a lovely breed of dog. He has a huge smile which he is not afraid to use and is an easy going pet even from a young age.
Leash walking is an important part of golden retriever puppy training. It is amazing how many adult dogs that have always pulled on the leash are expected just to "heel" on command. When he was a puppy the retriever pulled, as he grew the pulling became stronger but still not much of a problem. Suddenly a dog of 40kg dragging his owner along seems to come as a surprise.
Introducing the collar
Introducing your puppy to a collar can be a little traumatic, but he will soon get used to it. By using positive dog training you can associate food reward, to improve your dog's acceptance.
The following steps are a guide, to golden retriever puppy training, when introducing the collar for the first time;
Have a handful of small dog treats available and your puppy's new collar
Place the collar on the ground and give your dog chance to look at it, reward him when he does.
Now pick the collar up and show it to him and reward him
Place the collar very loosely around your dog's neck and give praise and treats continuously to prevent distress over the collar.
When the collar is on simply ignore it and any scratching or attention that the dog pays to it.
Play a game with your dog and give him lots of praise and reward then take the collar off
Repeat this over a number of sessions until eventually you can leave his collar on for longer periods without him paying any attention to it.
Stages based on the ones above can be used to introduce your puppy to many new things. Remember to keep things positive, reward based and fun. Positivity is the only technique to use within golden retriever puppy training.