There are many different kinds of leashes on the market today; each one has its own practical and aesthetic appeal. So holding the end of the leash is going to be different with each kind. When shopping for a leash, you will need to consider your dog's size and age. Keep in mind that small dogs and puppies should have light weight leashes while larger dogs should have stronger and heavier leashes.
There are different lengths of leashes available; the majority of leashes come in 4-foot, 6-foot or 8-foot lengths. For training purposes, a 6-foot length leash is ideal and recommended. The longer leashes are used when your training requires you to be at a distance from your dog.

Leashes come in many different materials. The most popular leash today is the nylon leash. Its low price tag, along with the variety of colors and designs makes it a popular item amongst dog owners. They are used in every day situations as well as dog training.
But for those of you who want the absolute best, the leash of choice is made of leather. These leashes are more attractive, but most importantly, they are superior in strength and are much easier to hold a grip.

There are also leashes made out of cotton, which are also easier on the hands than nylon, especially if the dog tends to pull. Cotton leashes can be bought in very long lengths, some up to 30-feet long, making them ideal for training outside or in any unenclosed outside areas.

Retractable leashes have gained popularity in the last few years. They have a unique feature to extend and retract automatically while the dog moves around. This gives the dog more space and freedom to walk while avoiding the leash from getting tangled in his legs. These leashes are usually higher priced than regular nylon leashes.
A retractable leash is definitely not recommended for dogs that aren't already trained to walk on a loose leash. Many dog trainers believe that these leashes encourage the dog to pull; the mechanism of the leash creates a constant pressure on the dog's collar, which leaves the dog unable to tell when the leash is tight or loose.
For situations when you need to keep your dog close to you, a traffic leash can be useful. Usually made of leather, traffic leashes are between 15 to 18 inches long and feature a large handle loop. A large dog can easily be held close to your body if equipped with a traffic leash.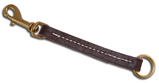 When training agility equipment or any other activity that involves obstacles, it's often recommended that people use a training tab or a short leash of about 8 inches long. The reason for using these short leashes is to avoid the dog from getting caught in the obstacles or in his legs, while still allowing you some control over the dog if the need ever arises. It is very useful when beginning training your dog as you can use the leash to lead him through an obstacle or catch him before he runs off.
Learning how to hold the end of the leash properly can avoid many potential problems. Many dog owners make the mistake of wrapping their leash two or three times around their hand. This can be very dangerous for you safety, since it leaves you unable to let go of the leash if you ever need to, especially when walking a bigger and larger dog.
A proper and effective way to hold the end of the leash is to insert your thumb in the loop at the end of your leash, and to grab the middle of the leash or any distance you need. With this technique you can add or remove length to your leash by grabbing further or closer to your dog.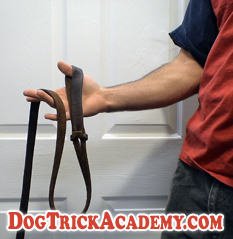 Overall, holding the end of the leash is a personal matter and you may choose to hold it whatever way you like, but now you will know of a new way to hold it. Try it during your next walk and see if you think it could be beneficial.