Bear was a German Shepherd of special note and a friend to Bas, Jin and Abby. He passed last week just a few days after these pictures were taken on his last trip to the Whitewater River. The photos were taken the same day as Jin's ninja pic.
Bear's owner Simon is my partner and best friend. From a pint of Guinness at the pub to SAR and beyond we've done everything from picking half dead people out of the middle of the desert to difficult rock work. His dogs (always GSDs) and my BCs have been good friends for 30 years.
Pass easy over the Rainbow Bridge Bear.
Clickable thumbs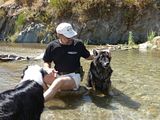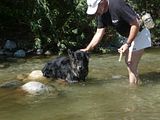 Before I go to bed tonight I shall open my window and wish upon a star then leave a place in my garden for puppies to dance.