Honored Member
Staff member
I was just curious if anyone knew whether or not there was a difference between "heelers" and Australian Cattle Dogs. I know ACDs are often referred to as "Queensland Heelers" or other heeler nicknames, but I've been told by a variety of people very contradicting things. (For the purpose of easy-to-understand reading, when I say "HEELER," I am NOT referring to the ACD/Queensland Heeler. I referring to what many people know as simply blue/red heelers, similar to the ACD but possibly not the same.)
First of all, as far as I know 'heelers' are not a recognized breed. In the US, heelers vary more than Border Collies. They all possess very similar characteristics, but size has no limit. Quite frankly, the average Texas bred heeler is...well, a genetic nightmare. They tend to be neurotic, unusually obsessive, and their appearance can be...well, anything. Color is about the only thing that stays consistent with a Texas-bred heeler. Texas-bred are usually anywhere from 30-50 pounds. South Dakota bred heelers, on the other hand, look like ACDs on steroids--typically the size of a German Shepherd or larger, but generally "sane" and intelligent dogs. In the US heelers can be any size and just almost any shape...most are the typical red or blue mottle color, with a few tricolors here and there and the occasional once-in-a-blue-moon piebald. On average, heelers tend to have a slightly different head than an ACD. The ears are set further down (on a heeler) and the head has a slightly different shape to it. ACDs are a little longer-bodied and tend to be lower to the ground in terms of body depth to leg length. Heelers rarely are left with full-length tails, while ACDs are often found with full-length tails.
So....my question is, are heelers and ACDs one and the same? Are "heelers" just the result of non-selective overbreeding?
Some pictures....
"Heelers"
(This one looks to be an obvious mix, but they're still calling it a heeler.)
Australian Cattle Dogs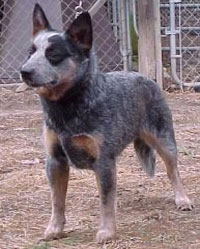 Although the "heeler" pictures shown are all very different, typically the heeler head has some very distinct differences. ACDs also tend to be much shorter than the average heeler. But anyway...I've had people tell me that there is no breed difference, and I've had people tell me that they are indeed two separate breeds. Zeke is 1/2 Border Collie, 1/2 Heeler/ACD/whatever. He has a gorgeous ACD-ish head, though not as large. Which reminds me; I need some new pics of him up here...but anyway, I was just curious as to what everyone's thoughts are on this. Thanks in advance.