Hand signals can be a little confusing, since there is no universal standard. Just like you can give your dog commands in various languages with completely different sounding words which mean the same thing, there are also variations in hand signals.
For example, the North American signal for sit is this: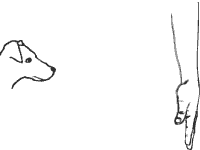 But if you were to use this same signal for most dogs trained in Germany, they would think you want them to stand. In Germany, the hand signal for sit is to point your finger in the air, while curling the rest, like this:​
The man in the second photo is holding a treat between his thumb and third finger, which is how we lure our beginner dogs into a sit while showing the signal at the same time.
If you want to see the German video that I took these two shots from.
Does anyone else know of other commonly used variations of hand signals for basic commands? I'd be curious to know what else is being used.
Cheers!