Last week I was looking through my dog cookbook. Yes, a cookbook filled with recipes for dogtreats. Actually recipes for entire cakes are in here!
And I decided to make some beef muffins.
I'll put the recipe down here, forgive me if the measurments are different from where you live.
200 grams minced beef
250 grams flour(I use regular flour, because my dogs can handle it, but you could use cornflower instead)
1 egg
1,5 theaspoon baking powder
4 tablespoons of corn oil (I didn't have that so I used sunflower oil)
250 ml cold water.
Stirr the minced beef in a bowl, with the egg and the oil
Add the flour and the baking powder and half of the water. Mix it with a whisk.
Pour in the rest of the water, untill the batter is thick.
Devide the batter into the muffincups.
Bake in a prheated oven at 180 degrees celsius for about 25 minutes, until lightbrown and cooked.
I use a wooden toothpick to check if the muffins are ready. Stick it into a muffin, if it comes out clean, they are ready.
Of course my dogs are willing to help out in the kitchen
Licking the whisk clean
Cleaning the bowl
The result:
Testing: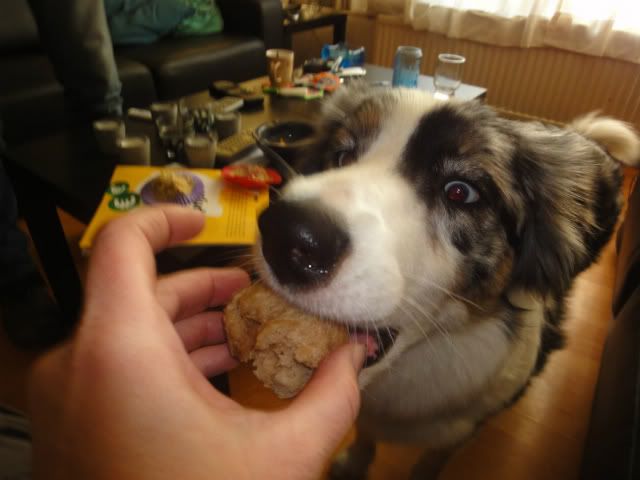 They very much approved this recipe
Of course I don't use these for training, but when we have coffee and a cookie, the dogs get these.
As for the minced beef treats:
Very very easy
500 grams of minced beef
2 tablespoons of garlicpowder
1 egg
Mix everything together with your hands and make little balls.
They loooovvveee this, why cook it, mum???
Spread the balls on some backing paper or a flat tin and bake for half an hour at 160 degrees celcius.
The idea is to get tiny little balls that are not too crunchy, but a little dried.
This time my boyfriend made the balls, so they are a bit bigger, than when I make them, as I normally use them for training.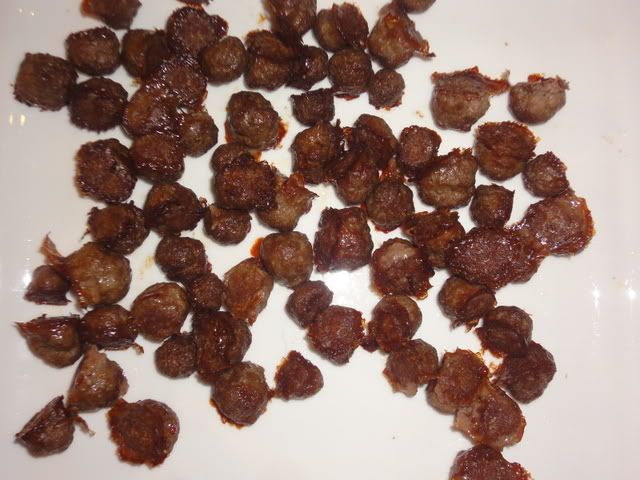 My dogs go nuts for these.
You can't keep them for too long, but a few days in the fridge would do.