Last year right before summer break, she came up with survival agility.
It was soooo much fun to do! Dogs and owners had a blast!
Here's what she had set up for us.
The start was a jump, handler and dog had to go over. Then both had to crawl through the cage and get wet as a sprinkler was spraying water over it.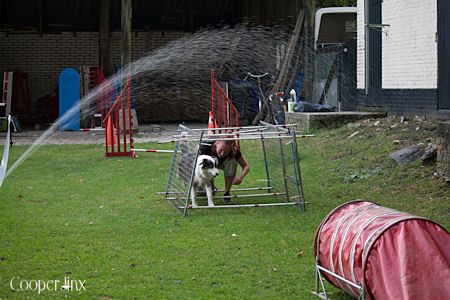 Then both had to go through the flat tunnel. All the dogs thought this was weird!!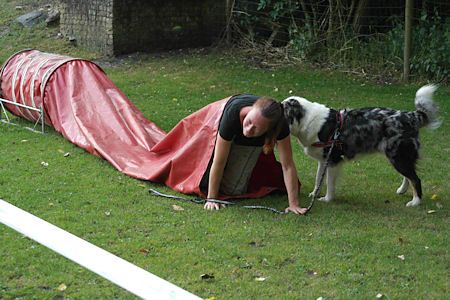 Another jump
Then cookie diving(for the dog) and candy bobbing(for us humans) Bowls filled with water with cookies or candy in the bottom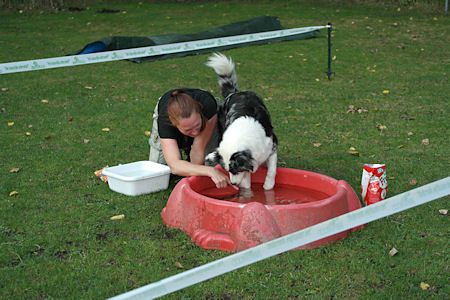 Go through the tunnel together. Funny was, that Jinx went through twice. She went in first, raced out, when she saw I was coming after her and ended up pushing my bottom end to make me hurry up
The wheelchair slalom. Dog in wheelchair and then through the weavepoles. I was surprised how calm she stayed. I thought she would jump out, but nope. She thought it was interesting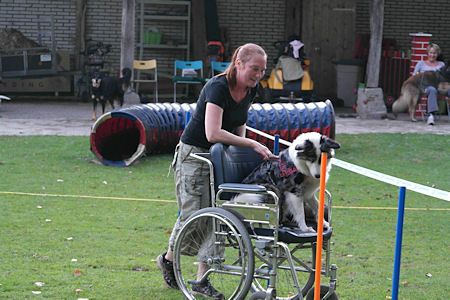 Then there was the catterpillar... Tunnel is on the ground stacked up. Step in and pull it over yourself all the way to the other end. The dog was supposed to do a sit-stay, but Jinx had to see what the... I was doing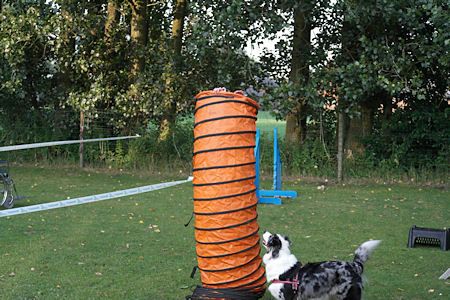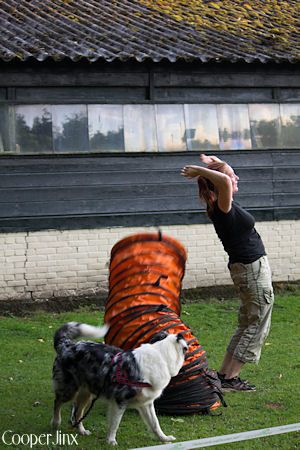 Crawl under a piece of plastic together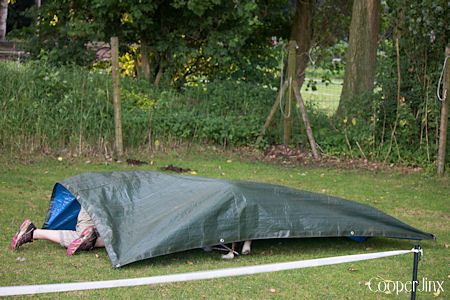 Through the tire. I managed it, but we switched to a hoop tied to poles, because some of the bigger ladies couldn't get through.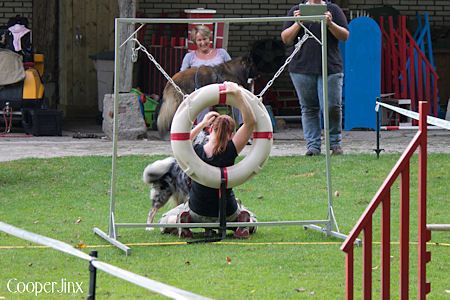 Retrieve an object(for the handler) sit-stay on or besides the box(for the dog) You see a little orange thingy on the roof on the right side of the ladder.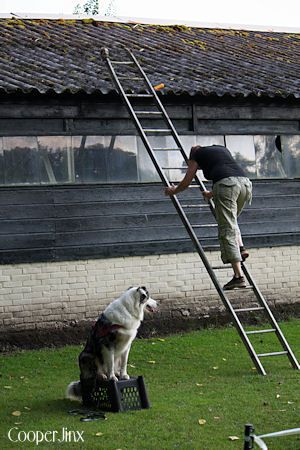 And finally the hardest thing... we used the table to support part of the dogwalk, with the teeter opposite of it. You had to have your feet on the dogwalk and your hands on the teeter and go sideways. Not so hard untill the teeter tipps over. Then you find yourself hands lower than your feet and that was REALLY hard!!! And hilarious.
Here is a pic of Amy, the dogschool owners daughter. My pic wasn't taken here