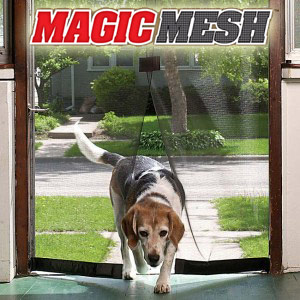 Magic Mesh
™ instant screen door uses magnets to instantly open & snap closed behind you.
Alright so about a month ago Isis ran through our screen door into our house after being scared by thunder.
The screen was being held together by black, lime green and zebra duct tape, I kid you not. My parents gave me this as a lovely gift so my landlord didn't have my head til I can buy a new one. I love love love this thing! It's great. The dogs were a little cautious to use it. Isis ran up to it thinking it was open before seeing it at the last second and giving it this big out bug eyed look. O.O "WHAT IS THIS SORCERY?!"
Can't say that I didn't get a good laugh!
You definitely have to have it set up correctly for the magnets to work. I used 16 velco strips instead of the 12 that they use just to make sure it says put. It is a little larger than the opening but it definitely does its job to the max. If you live in a windy area and the door is facing the wind, you do need to sew a pocket at the bottom and weight it down to keep it from blowing around.
Overall, a 5 out of 5. I love it.